Posted by Airspotters on 23rd Feb 2023
Gemini Jets
Established in December 1998 by Elliott Epstein, Airliners Distributing, Inc. created the Gemini Jets brand to specialize in 1:400 model airplanes. Located in Las Vegas, Nevada, United States, the company has been successful in the market since its conception.
We are authorised retailers of these superb models and have been selling them since we started in our business in 2005. We are based in the United Kingdom
To view all the models please Click the logo below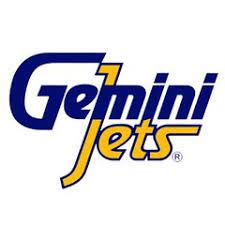 Or go directly to Airspotters.com
---
Approx Model Aircraft Sizes Guide of Popular Models
A320neo

Wingspan 9cm x Length 9.4cm x Height 3 cm

A321

Wingspan 8.5cm x Length 10.4cm x Height 3 cm

A330-900neo

Wingspan 16cm x Length 15.9 x Height 1.9cm

A380-800

Wingspan 19.9cm x Length 18.2cm x Height 6cm

B737-800

Wingspan 8.6cm x Length 9.9cm x Height 3.2cm

B

747-400

Wingspan 16.2cm x Length 17.7cm x Height 4.9cm

B777-300

Wingspan 16.2cm x Length 18.5cm x Height 4.7cm

B787-900

Wingspan 15cm x Length 15.7 x Height 4.3cm

ATR 600

Wingspan 6.8cm x Length 6.8cm x Height 1.9cm
If you need any help before purchasing and maybe any Guidance please Contact Us" through our website at
Airspotters.com
No obligation to buy anything at all it's a free service for help and guidance.
---
British Airways is one of our best selling airlines